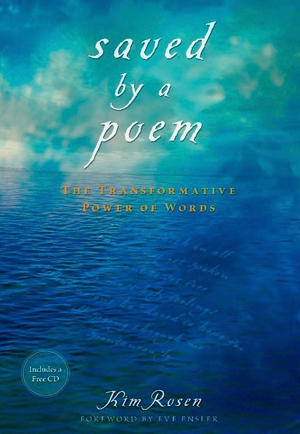 The Transformative Power of Words
by Kim Rosen
Can someone really be saved by a poem? In Kim Rosen's book, the answer is a resounding "Yes!" Poetry, the most ancient form of prayer, is a necessary medicine for our times: a companion through difficulty; a guide when we are lost; a salve when we are wounded; and a conduit to an inner source of joy, freedom, and insight.
Whether you are a lover of poetry or have yet to discover its power, Rosen offers a new way to experience a poem. She encourages you to feel the poem as you might an affirmation or sacred text, which can align every level of your being.
In an uncertain world, Saved by a Poem is an emphatic call to cultivate the ever-renewable resources of the heart. Through poetry, the unspeakable can be spoken, the unendurable endured, and the miraculous shared. Weaving teaching, story, verse, and memoir, Rosen guides you to find a poem that speaks to you so you can take it into your life and become a voice for its wisdom in the world.
INSPIRATIONAL AUDIO DOWNLOAD INCLUDED: Featuring the voices of well-known authors reading a favorite poem and discussing its personal significance.
"Saved by a Poem is, quite simply, transformational. A book that I now keep by my bedside. I have never before appreciated the power of poetry having been talked out of it in school. Kim Rosen redeemed poetry for me. And a whole new world has opened up.I love this book (and the CD that goes with it)." — Dr. Christiane Northrup, M.D., author of The Secret Pleasures of Menopause; The Wisdom of Menopause; Women's Bodies, Women's Wisdom; and Mother-Daughter Wisdom
"Rarely in one's life does a book come along that touches a tender place in the heart that knows truth. Saved by a Poem did that for me. It reawakened my love of poetry, filled my soul with the beauty of its words, and fueled my creative spirit with the vital nourishment that only poetry can offer. What a gift. Thank you, Kim Rosen." — Cheryl Richardson, author of The Art of Extreme Self-Care
"Kim Rosen's work is infinitely more important than it might appear. I have no doubt that our highly distressed society could be saved by poetry. Kim tells us here how a poem wakens and nourishes the soul and gives us the insight and sensitivity we need to live as creative individuals and as a peaceful society. She tells us how and what to read, not just appreciating some surface pleasantness but taking in the life-changing perspectives of real poetry. You will be educated and healed by this book." — Thomas Moore, author of Care of the Soul and Writing in the Sand
"Intimate and wise, personal and encyclopedic, this book is about the fully embodied life that steps forward when great language is spoken aloud. Kim Rosen opens—and holds open—poetry's first door: the intimate and unobstructed voice. She shows how the practice of saying a poem can be limitless, revealing our fullest capacities of heart and mind, and returning those capacities to us in times when we have forgotten our way. This is a book both profoundly useful and usefully profound. It comes straight from the original fires in which poems are forged." — Jane Hirshfield, author of Nine Gates: Entering the Mind of Poetry
"If you love poetry, you will treasure this book. But even if you have never liked poetry much at all, I suspect this book might convert you." — Sharon Salzberg, author of Loving Kindness: The Revolutionary Art of Happiness
"Kim Rosen is bringing poetry back to where it belongs—into our bodies. To know a poem from the inside is to become a tabernacle for the sacred song of human life. We knew this long ago. Kim Rosen is helping us to remember. This art of knowing and holding poems within ourselves is crucial and life saving." — Marie Howe, author of What the Living Do and The Kingdom of Ordinary Time
"[Saved by a Poem] is a call, a guide, an invitation to know poetry, to find poetry, to remember poetry. . . . For those who are afraid of poetry, this is a door opening; for those who love poetry, this is a sure deepening." — Eve Ensler, author of The Vagina Monologues and Insecure at Last
by Jami Sieber and Kim Rosen
A revolutionary meeting between poetry and music that joins the poems of Neruda, Rumi, Rilke, Tsvetaeva and others - spoken by Kim Rosen - with music that moves from vibrant stillness to irresistible world beat rhythms, created by the excellent musicianship and creative vision of Jami Sieber.